In the third quarter of 2020, the manufacturer Xiaomi overtook Apple in the smartphone market. But the firm at the apple should quickly regain its third place with sales of iPhone 12 which will count for Q4 2020. For its part, relayed second in the previous quarter, Samsung is once again at the top of the ranking with impressive figures.
The quarters follow one another but are not the same in the smartphone market. Analyst firm Canalys has delivered its verdict on Q3 2020 figures for smartphone shipments. As a reminder, the results communicated do not correspond to the number of mobile devices sold in stores or online, but to the quantity of phones shipped from factories.
XIAOMI BEFORE APPLE, FOR THE MOMENT
The fact is that the published rankings are poles apart from the second quarter, with many changes involved. Let's start with the passing of arms observed between Apple and Xiaomi, the first named having a habit of camping in third place. Third place that the Chinese manufacturer has stolen from him with 47.1 million smartphones delivered (13.5% PDM), against 43.2 million for the Apple company (12.4% PDM). According to Canalys, the Redmi 9 played an important role.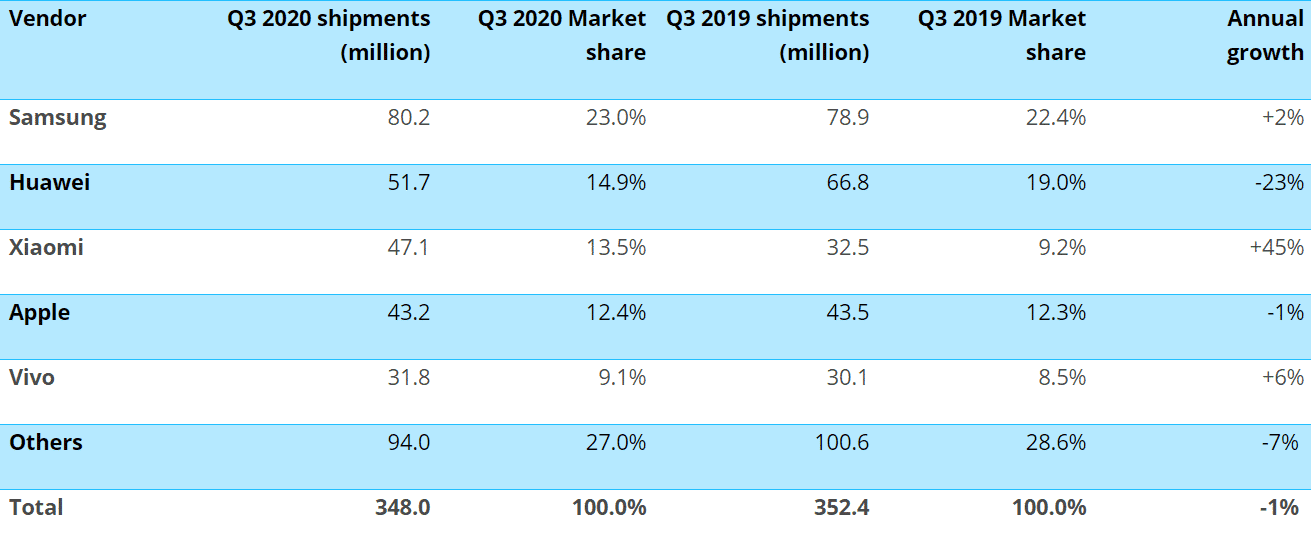 In reality, the Cupertino group can remain calm: from one year to the next, their expeditions have declined very little (300,000 difference). But above all, the marketing of the iPhone 12 and its variations should boost its figures for the fourth quarter of 2020. As such, pre-orders of the iPhone 12 and 12 Pro took off from their first launch weekend (estimate : between 7 and 9 million cumulatively).
SAMSUNG IMPRESSES
In short: the Californian firm should easily recover its third place in Q4. There is nothing to say, however, that it will hold onto it for the next few months, with uncertainty hanging over the sector due to the economic crisis caused by the coronavirus (Covid-19). More expensive than average, Apple products might put more than one off. When Xiaomi has a more complete offer (high, mid and entry level).
HUAWEI, IT GETS
On the other hand, the firm of the Middle Empire shows a small mine if one compares the figures of the last year. In the third quarter of 2019, Huawei delivered 66.8 million devices, for a 19% market share. On this last point, the company loses 4.1 points from one year to the next. A significant difference.
Note that Canalys's competitor institute, IDC in this case, agrees on the same ranking of manufacturers. While the two sides have several times had some differences in terms of results. Which therefore confirms all the elements presented.